---
Publications
Location Based Systems (current area), DBLP/1, DBLP/2
M. Weber, L. Liu, K. Jones, M. Covington, L. Nachman, P. Pesti: On Map Matching of Wireless Positioning Data: A Selective Lookahead Approach, 18th ACM SIGSPATIAL International Conference on Advances in Geographic Information Systems (ACM GIS 2010), San Jose, CA, 2010.
P. Pesti, L. Liu, B. Bamba, A. Iyengar, M. Weber: RoadTrack: Scaling Location Updates for Mobile Clients on Road Networks with Query Awareness, Proceedings of the 36th International Conference on Very Large Data Bases (VLDB 2010), Singapore, 2010.
E. Martin, L. Liu, M. Weber, P. Pesti, M. Woodward: Unified analytical models for location management costs and optimum design of location areas, 5th International Conference on Collaborative Computing (CollaborateCom 2009), Washington D.C., 2009.
L. Liu, B. Bamba, M. Doo, P. Pesti and M. Weber: mTrigger: An Event based Framework for Scalable Processing of Location Triggers, Chapter 16 in Handbook of Research on Advanced Distributed Event-Based Systems, pp. 369-393, Edited by Annika Hinze and Alejandro Buchmann, IGI Global, 2009.
P. Pesti, J. Elson, J. Howell, D. Steedly, M. Uyttendaele: Low-Cost Orthographic Imagery, 16th ACM SIGSPATIAL International Conference on Advances in Geographic Information Systems (ACM GIS 2008), Irvine, CA, 2008.
B. Bamba, L. Liu, P. Pesti, T. Wang: Supporting Anonymous Location Queries in Mobile Environments with PrivacyGrid, 17th International World Wide Web Conference (WWW 2008), Beijing, China, 2008.
Human-Computer Interaction
Speech Synthesis
---
Patents
---
Projects – Location, Maps, Mobile, Community
Mobility simulator
Simulator for generating mobility traces and query traces for large numbers of mobile objects moving in a road network.
Microsoft Research's MapCruncher for Virtual Earth
In the summer of 2007 & 2008 I worked on a more advanced version of MSR MapCruncher at Microsoft Research with Jeremy Elson, Matt Uyttendaele and Jon Howell.
mGraffiti
mGraffiti: Scribbling the Virtual Earth
mGraffiti's press coverage
A community location-based commenting application for Windows Mobile PDA clients, with a satellite imagery interface using Microsoft TerraServer imagery. This project was made for the Microsoft Imagine Cup competition in the spring of 2005; the "Virtual Earth" in the tagline doesn't refer to Microsoft's similarly named service, as it didn't exist yet at the time :)


Shibuya Star
'Shibuya Star' is a collaborative, mapping-enhanced, location-aware 3G wireless IMS software application for GPS-enabled PDAs, that provides the ultimate empowering technology for instant mobs - haphazardly formed groups of people, and teens in particular. (April 2007)
Shibuya Star concept, business plan, architecture and design [pdf]
Shibuya Star presentation [pdf]


Spatial Alarms
Business plan for a startup in cellular location based services, for our Technology Ventures course (April 2007).
Spatial Alarms business plan [pdf]


Google Maps Hacking
"Earth Nighttime!" was a Google Maps mashup of a large night lights image from NASA Visible Earth, released on February 17, 2006, and generating 1.11M page views during 2006-13.
was seen on: Google Maps Mania, Digg, del.icio.us, Hatena (夜のGoogle Maps), Reddit, The Raw Feed, Neatorama, Forever Geek, OSWD, gHacks, Zorgloob (Google Map La Nuit), Menéame (Google Map Nocturno), nikochan, Solidot (Google Maps 夜间版), WebProNews, Gridskipper, The Morning News, SearchEngineWatch, Hiro Iro, あれこれ / Arekore, MyDrivers, 搜狐数码天下 / Sohu, eNet, it.com.cn, PChome, Motoricerca (mappe della Terra di notte), Rinero, Peopleware, Pestaola (Google Maps την νύχτα), Café Preto, PConline, Sina 科技, 网易数码 / 163.com, Datafull, Infobae, Libertad Digital, Expresso, Washington Science Teachers Association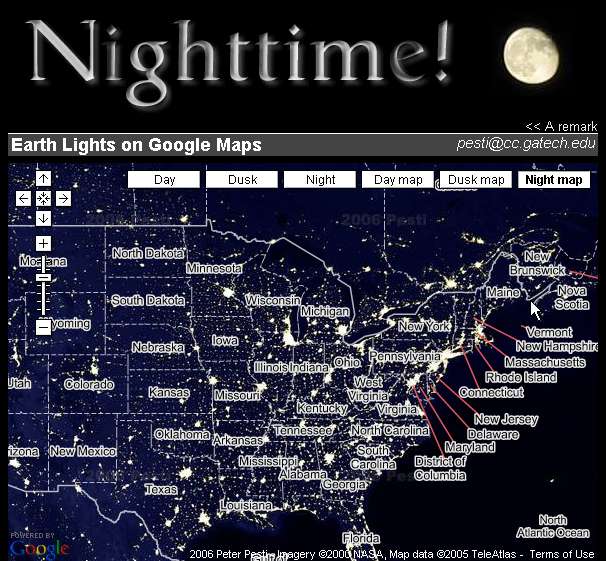 "Europa, the icy moon of Jupiter" was a Google Maps mashup of a 1.0 km/pixel (0.62 mi/pixel) resolution NASA image of Europa (Galileo and Voyager 1 & 2 data) from the USGS Astrogeology Science Center, released on March 14, 2006, and generating 0.15M page views during 2006-13.
was seen on: Google Maps Mania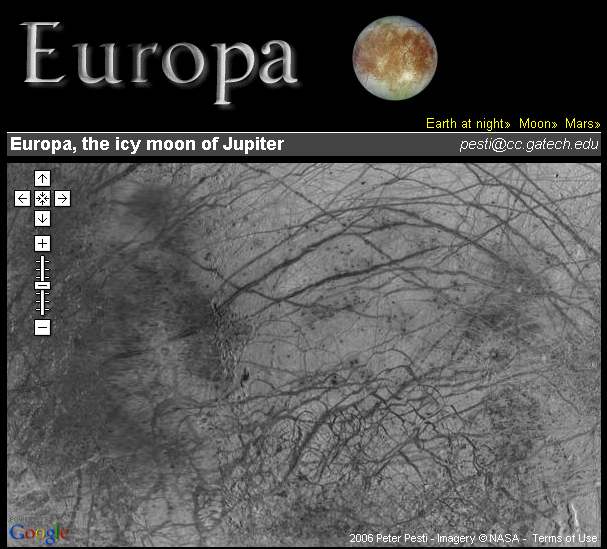 ---
Creative Corner / Strategy, Technology and Policy
Detailed Roadmap of the 21st Century
A year by year bullet point list of notable advances expected to happen in the 21st century, from 2006 onwards. The motivation for creating such a compilation is to allow us to evaluate predictions in context of other predictions.
Atlanta Streetcar/Tram Concept Photos
I tried to imagine how some European trams that I have seen would look like on Peachtree Street. Concept photos of trams from Athens, Bordeaux and Budapest in Atlanta...
---
Finance
My lecture notes for ECON 252: Financial Markets (Robert Shiller)

---
Courses
CS 8803, Natural Language Understanding (Ashwin Ram)
CS 6330, Software Generation and Testing (Spencer Rugaber)
MGT 6901, Management Consulting (Alan Flury)
MGT 6753, Principles of Management for Engineers (Alan Flury)
MGT 6789, Technology Ventures (Alan Flury)
---
Georgia Institute of Technology | College of Computing | School of Computer Science